Saturday, March 17, 2007
INTERVIEW - ONESIMO HIDALGO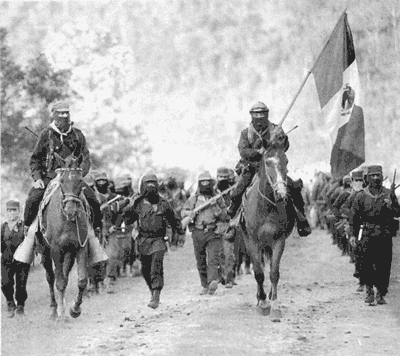 Since the Zapatista uprising on January 1, 1994 the state of Chiapas has been in the centre of the national and international public's attention.

After 12 years of indigenous and campesino resistance the people who have organized and mobilized in Chiapas continue to struggle against the discrimination and isolation endured for centuries and after government after government.

Onesimo Hidalgo is an human rights activist and is co director of the Centre for Economic Research and Social Action based in San Cristobal de las Casas.
Onesimo is a on a US and Canada tour talking about the Militarization, Migration and how we can help join forces to create an alternative for the people of Chiapas and southern Mexico.
November 06, 2006
A couple of weeks ago we planned to speak with compañera Lydia Robles of Bolivia. Unfortunately, that Saturday we were unable to reach her, but as promised, we again contacted and invited her back to ALAD.

Lydia was here in Vancouver a few weeks ago on a Canada speaking tour, to inform the international community of the events and developments taking place in her country 9 months after President Evo Morales took power. Lydia was also here to gather support in the effort to indict Bolivia´s former president Gonzalo Sanchez de Losada for the murder of 70 people in October 2003.

Lydia Robles, is the representative of the Women´s Secretariat of the Textile Workers´Union of Cochabamba. Her union was instrumental in the struggle against the privatization of water and to remove the multinational company Betchel of Bolivia. We have the great pleasure of having Lydia Robles on the telephone line this afternoon.
May 06, 2006
May 1st, 2006, International Labour day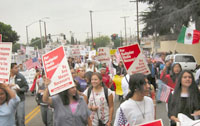 This May 1st, 2006, International Labour day, marked a historic event in the lives of the people of the United States but most importantly in the lives of the millions of immigrants of that nation.

The mobilization of hundreds of thousands of immigrants, mainly latinas and latinos, in what was called "a day without immigrants" caused the standstill of many sectors of our neighbouring country. This mass demonstration also showed the socio-political, labour and economic strength that those hundreds of thousands of working people represent.

Rejecting the Bush regime's racist and excluding legislation that criminalizes immigrants as terrorists and foreign invader, the voices of those hundreds of thousands of people who peacefully marched through the major cities of the US, were proudly heard throughout the world and brought the issue of immigration to the forefront and up for debate. Just an hour south of our border with the US, the activist community of Belligham and north of Washington state, also joined to those silenced voices on this past May Day to say: We are here and we're not leaving.

Rosalinda Guillen, one of those tireless activists and a spokesperson for the grassroots organization Community to Community Development is on the phone line to share with us all that happened on Monday May 1st.
April 22, 2006
Indigenous and Campesino sectors of Guatemala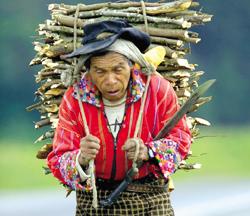 Since November of last year the indigenous and campesino sectors of Guatemala have been pressuring the Guatemalan government to respond to a number of demands and proposals which include the creation and implementation of agrarian programs to assist indigenous-campesino people after the hurricane Stan tragedy hit the Central American region, and to create a space where indigenous, farmer and the rights of all Guatemalan people are respected.

After a long wait and many conversations and negotiations, the government and state powers have not reacted. So a number of indigenous, campesino organizations called for a day of action that took place on Thursday, April 21.
April 01, 2006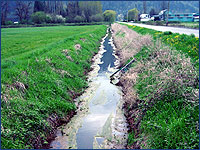 During fall last year, a group of Mexican farm workers, working in a local farm, made the news because they decided to stop working to protest the living conditions in which they were in.

We on ALAD spoke with a few of those workers who shared with us and you the terrible experience they lived while working the Canadian fields, before they decided to leave ignoring the terms of their contract in the same way their boss and respective governments did.

But new groups of farmers continue to arrive in BC and throughout Canada under this government-sponsored program, agreed by both the governments of Mexico and Canada and the working, housing and health conditions for the workers continues to be the same.

This program, which obviously has major flaws, only benefits the governments and the landowners is not monitored by any level of government or institution and as it always happens in explotation and cases of injustice, the complaints of those affected fall on deaf ears.

For more information visit: www.justicia4migrantworkers.org
March 25, 2006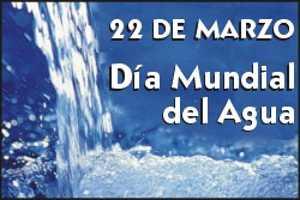 The struggle for water´s defense versus the merchandising of water

were the two opposing topics discussed last weekend and during this week in Mexico City.

Hundreds of people from all over the world took part in the International Forum in Defense of Water organized by dozens of popular and grassroots organizations including the Coalition of Mexican Organizations for the Right to Water.

The forum took place in the Telephone Workers´Union headquarters. Then later, during this week the 4th World Water Forum where multinationals, private corporations and financial institutions that benefit from the sale and merchandizing of this natural resource that is our human right took place. As a huge contrast this world forum took place at Banamex´s convention centre. Banamex is one of Mexico´s major banks.
March 18, 2006
In September of last year, during an FBI stakeout in a Puerto Rican farm, Filiberto Ojeda was shot by FBI agents and left to bleed to death. Ojeda was a leader of an independence organization, the Boriqua Popular Army, also known as the Macheteros. His death has gone unpunished and was of course excused by US and Puertorican authorities.

Since Ojeda´s assassination, the United States´ FBI has invaded de island of Puerto Rico and carried out massive searches and harassment targeting independence activists who struggle for the self determination of their homeland.

To speak to us about these terrorist actions perpetrated by US agents, we have on the line Manuel Rodriguez Orellana, Secretary for North American affairs of the Puerto Rican Independence Party.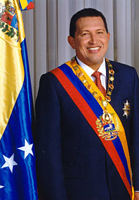 Sabado 20 de Julio 2002 Solidarity with Comandante Hugo Chavez Frias and the People of Venezuela One of most preoccupying issues of these times is the distortion and manipulation of the information by the mass media.

Everyday the mass media becomes a simple propaganda tool that benefits a country's economic elite, that work toward shutting down the voices of the opposition or those who seek social justice. In Latin America, the United States government has always made use of the mass media to support its aggression policies against the people of Latin America and this could not be done without the support of the local economic and oligarchic elite.

One of the most shameful examples of this Washington-local oligarchy and mass media alliance is found today in Venezuela.

Today, ALAD wants to counteract and denounce these misinformation campaigns currently underway in Venezuela, and we have on the line from Caracas Venezuela, Ricardo Villasana a member of the Caracas Chapter of the Bolivarian Network.

Ricardo Villasana Red Bolivariana- Caracas, Venezuela www.redbolivariana.org