Saturday, April 07, 2007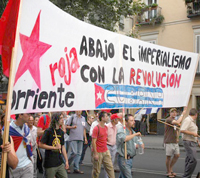 INTERVIEW - FERNANDO DUQUE

From april 1st to the 3rd a couple of representatives from the Cuban Institute of Friendship amongst Peoples traveled along through Canada promoting the invaluable job that solidarity work brigades provide to the Cuban people.


Fernando Duque Gomez is the Director of the Canada Desk for the Cuban Institute of Friendship with the Peoples (ICAP) and he was here in Vancouver this week and we had a chance to speak with him about his speaking tour.
America Latina Al Dia
Live on Saturdays
from 12:00 to 1:30pm
CFRO 102.7 FM
Vancouver Co-operative Radio


Radio Cooperativa
Vancouver Co-operative Radio, CFRO, 102.7FM is a non-commercial, co-operatively-owned, listener-supported, community radio station.


Telesur

Vancouver Community Network
VCN is a community-owned provider of internet tools and services for sharing the broadest range of information, experience, ideas, and wisdom.