Sabado, 07 de Abril de 2007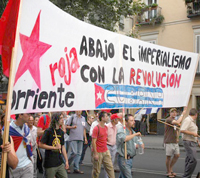 ENTREVISTA - FERNANDO DUQUE

Durante los dias 1 y 3 de abril dos representantes del Instituto Cubano de Amistad con los Pueblos visitaron Canada para promover el invaluable trabajo voluntario de las brigadas de solidaridad con Cuba.

Fernando Duque Gomez, es el director de la cartera de Canada en el Instituto Cubano de amistad con los Pueblos y nos visito esta semana y afortunadamente tuvimos la oportunidad de conversar con el sobre su gira.
America Latina Al Dia
Escuchenos los Sabados
de las 12:00 a 1:30 pm
CFRO 102.7 FM
Vancouver Co-operative Radio




Radio Cooperativa
Vancouver Co-operative Radio, CFRO, 102.7FM is a non-commercial, co-operatively-owned, listener-supported, community radio station.


Telesur

Vancouver Community Network
VCN is a community-owned provider of internet tools and services for sharing the broadest range of information, experience, ideas, and wisdom.