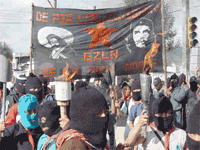 ALAD was launched in1976 by members of the Chilean exile community who had fled the Pinochet dictatorship in their homeland.

From its inception, the purpose of America Latina al Dia has been to serve as a communication bridge and to build solidarity with Latin American political and social movements amongst Canadians.

We are filling a huge gap left by mainstream media not only in regards to ideology but also about access to information. ALAD has always strived to be a political communication and educational tool.


Cafe Rebelde
Dogwood Center, 706 Clark Dr. Hours: 7:00 – 11:00 PM
Entrance by donation




Radio Cooperativa
Vancouver Co-operative Radio, CFRO, 102.7FM is a non-commercial, co-operatively-owned, listener-supported, community radio station.




Telesur

Vancouver Community Network
VCN is a community-owned provider of internet tools and services for sharing the broadest range of information, experience, ideas, and wisdom.