Belcarra Beachkeepers
At Belcarra Regional Park, volunteers help park visitors learn more about the creatures of sea and shore and, at the same time, shows them ways of being better stewards of the marine environment. A collaboration between Metro Vancouver Regional Parks, Fisheries and Oceans Canada, and local volunteers, this program gets volunteers out on the beach. To find out more, go to the Beachkeepers page.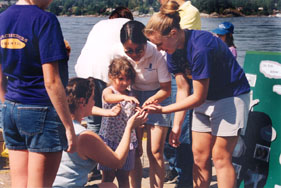 Gordon Smith Youth Environmental Service Award
This annual award has been established in memory of parks planner Gordon Smith, who worked with many of our regional parks and local volunteers for almost 20 years. Click here to find out more.
At right: 2011 winner Edward Ngai
(right) with Metro Vancouver Parks Committee member Mel Kositsky.