---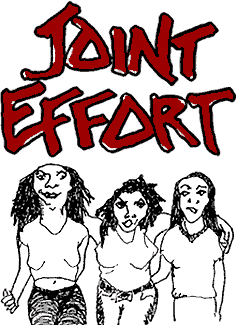 Joint Effort is an all women prison abolitionist group involved in solidarity work with women prisoners at the Fraser Valley Institution for Women (Federal) in Abbotsford, BC and the Allouette Correctional Centre for Women (Provincial) in Maple Ridge, BC. Joint Effort started as a sub committee of the BC Federation of Women and has been volunteering at the women's prison since 1980.
The group consists of women who work to create contacts between women in prison and various community organizations outside the prison.
On the "inside" our work consists of organizing discussion groups, various workshops and music, theatre and sports events. We work with the Inmate's Committee and the Native Sisterhood to support their activities in any way that we can. In our weekly visits we try to create a space where women from "inside" and "outside" can communicate around issues of mutual interest, where respect and confidentiality are practised and where a woman can speak her mind and be supported.
On the "outside", Joint Effort is involved in providing public information about the situation of women in prison as well as lobbying the government on various issues.
Joint Effort is an independent group that is not associated with the prison or the church. We are unpaid workers and the group does not receive any government or institutional funding.
Resources on Federally Sentenced Women and Security Classification Canada, July 31, 2006 (2 articles, 1 research dcoument, links)
New Women's Jail to Replace Century Old Jail Canada, April 3, 2006 (CBC)
Sandy Paquachon Awakens from Coma, Still Seeking Humanitarian Parole Canada, December 5, 2005 (Stark Raven News)
Native Leaders Call for Alternatives to Jail for Women Manitoba, March 1, 2005 (CBC)
Justice for Girls Report Confirms that B.C. Youth Prisons Contravene Human Rights Laws April 28, 2005 (Justice For Girls Press Release)
More Promises To Women Not Kept: Women's Organizations Respond to CSC on the Human Rights Commission Report March 8, 2005 (Elizabeth Fry Society Press Release)
CSC Responds to Human Rights Commission Report on Women in Prison February 17, 2005 (Canadian Press)
Answers Sought in Woman's Death in Vanier Jail January 6, 2005 (Toronto Star)
Government Fails Kimberly Rogers Again August, 2004 (Toronto Star)
Lockdown at Nova Women's Prison June 14, 2004 (Stark Raven News)
Women Unsafe at Nova Scotia Halfway Houses May 17, 2004 (Stark Raven News)
BCCW Closed and Women Moved to New Prisons April 12, 2004 (Stark Raven News)
Harsh Prison Conditions for Pregnant Woman Feb 16, 2004 (Stark Raven News)
Link To Canadian Human Rights Commission Report on Women in Prison: "Protecting Their Rights" Released Jan 28, 2004
Press Release From Elizabeth Fry Society on Human Rights Commission Report Jan 26, 2004 (Elizabeth Fry Press Release)
Human Rights Commission Criticizes Situation for Women in Prison Jan 26, 2004 (CBC News)
Canadian Human Rights Commmission Looks at Women in Prison Jan 22, 2004 (Stark Raven News)
Open Letter From Betty Krawczyk to BC Solicitor General about Conditions in BCCW Dec 8, 2003 (Stark Raven News)
Woman To Sue Prison For Forced Body Search Nov 28, 2003 (CBC web posted)
Discrimination Against Aboriginal Women Rampant in Federal Prisons Jul 25, 2003
Interview with Fire This TimeJul 20, 2003
Prisons Are A Failed Experiment (Especially for Women) Jul 15, 2003
Women in Men's Prisons Unacceptable Jul 13, 2003
Canadian Human Rights Commission Investigates Systemic Discrimination in Women's Prisons Jul 13, 2003
Mental and Developmental Disabilities and Women in Prison Jul 11, 2003
Federally Sentenced Women Prisoners Begin Hunger Strike Feb 25, 2003
Going Inside - Notes from a Joint Effort Member Feb 10, 2003
Kimberly Rogers Story and Inquest Jan, 2003
Letter From A Springhill Prisoner Oct 31, 2002
Joint Effort's Statement at The Politics of Prison: From Bad to Worse - A public forum in response to the recent cuts announced to prisons in BC
Mar 2, 2002
Letter From Yvonne Johnson 2001
Dangerous Offender Classification for Lisa Neve Overturned Sept 29, 1999
Joint Effort's Abolitionist Perspective 1997
Women Prisoners to be Housed in Men's Prisons 1997
Criminal Histories Not So Dangerous1995
Women's Prisons, A Tool of Subordination
1995
Email: jointeffort (at) prisonjustice (dot) ca

PO Box 78005, 1755 East Broadway
Vancouver, BC
V5N 5W1