---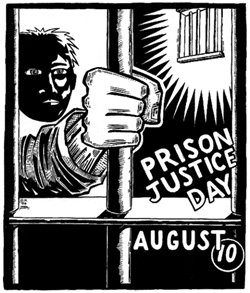 ...August 10, the day prisoners have set aside as a day to fast and refuse to work in a show of solidarity to remember those who have died unnecessarily -- victims of murder, suicide and neglect.
...the day when organizations and individuals in the community hold demonstrations, vigils, worship services and other events in common resistance with prisoners.
...the day to raise issue with the fact that a very high rate of women are in prison for protecting themselves against their abusers. This makes it obvious that the legal system does not protect women who suffer violence at the hands of their partners.
...is the day to remember that there are a disproportionate number of Natives, African-Canadians and other minorities and marginalized people in prisons. Prisons are the ultimate form of oppression against struggles of recognition and self-determination.
...the day to raise public awareness of the demands made by prisoners to change the criminal justice system and the brutal and inhumane conditions that lead to so many prison deaths.
...the day to oppose prison violence, police violence, and violence against women and children.
...the day to publicize that, in their fight for freedom and equality, the actions of many political prisoners have been criminalized by government. As a result, there are false claims that there are no political prisoners in north american prisons.
...the day to raise public awareness of the economic and social costs of a system of criminal justice which punishes for revenge. If there is ever to be social justice, it will only come about using a model of healing justice, connecting people to the crimes and helping offenders take responsibility for their actions.
...the day to renew the struggle for HIV/AIDS education, prevention and treatment in prison.
...the day to remind people that the criminal justice system and the psychiatric system are mutually reinforcing methods that the state uses to control human beings. There is a lot of brutality by staff committed in the name of treatment. Moreover, many deaths in the psych-prisons remain uninvestigated.
ABOLISH DOUBLE BUNKING
ABOLISH 25 YEAR SENTENCES
ABOLISH SOLITARY CONFINEMENT
ABOLISH INVOLUNTARY TRANSFERS
ABOLISH INTEGRATION OF PROTECTIVE CUSTODY PRISONERS INTO GENERAL POPULATION
ABOLISH PRISONS
August 10, 2010 marks 35 years of Prison Justice Day
Deaths in Kashechewan Fire Blamed on Poor Jail Conditions Kashechewan First Nation, January 10, 2006 (Canadian Press)
Lawsuit Launched over Medical Neglect in Prisoner Death Quebec, September 7, 2005 (Montreal Gazette)
Answers Sought in Woman's Death in Vanier Jail Ontario, January 6, 2005 (Toronto Star)
Jury Denounces Jailing People Suffering From Mental Illness Ontario, November 15, 2004 (Stark Raven News, Ottawa Citizen)
Inquest into Death Urges Improved Healthcare at Private Prison Ontario, October 4, 2004 (Stark Raven, Toronto Star)
Government Fails Kimberly Rogers Again Ontario, August, 2004 (Toronto Star)
Inquests Release Recommendations After Suicides Saskatchewan and New Brunswick, 2004 (Stark Raven News)
Prisoner Killed in Private Prison Ontario, May 6, 2004 (Toronto Star)
Inquest Jury Says Youth Jail Should Be Shut Down Ontario, April 9, 2004 (Toronto Star, Globe and Mail)
Inquest into Private Prison Death Focuses on Time Keeping Problems Ontario, March 15, 2004 (Stark Raven News)
Inquest Into Suicide at Ontario Youth Jail Ontario, Jan 21, 2004 (Toronto Star)
Police Won't Be Charged in Native Man's Death BC, Jan 16, 2004 (CBC)
3 Separate Prisoner Deaths Under Investigation Nov 17, 2003 (Stark Raven Radio News)
Discrimination Against Aboriginal Women Rampant in Federal Prisons Jul 25, 2003
Prisons Are A Failed Experiment (Especially for Women) Jul 15, 2003
Canadian Human Rights Commission Investigates Systemic Discrimination in Women's Prisons Jul 13, 2003
History of Prisoners' Justice Day 2001
Prisoner Deaths - Facts and Statistics 2001
HIV & AIDS in Prison 1996
Email: pjd (at) prisonjustice (dot) ca
Phone: 604.682.3269 ext 3019
PO Box 78005, 1755 East Broadway
Vancouver, BC
V5N 5W1