Many thanks to all the dancers who responded to our survey; your responses were the encouragement we needed to continue our plans for holding Chehalis Contra Dance Weekend 2023. Since sending out the survey, for various reasons, we have decided to hold Chehalis' first "in-town" weekend in our original choice of hall: we look forward to dancing with you in Surrey's lovely, heritage Sullivan Community Hall in September
.

The amazing talent that originally signed on for 2020, KGB, the Stringrays, and callers Lisa Greenleaf and Wendy Graham, have committed to being with us in 2023. Andy Smith will be doing our sound.


COVID & Mask Policy

We surveyed the early registrants for Chehalis 2023 about whether or not to go with a mask optional policy. Due to the overwhelming response to change from a mandatory mask policy to an optional one, the Chehalis organizing committee has decided to go ahead with this. We reviewed all the responses carefully, and, after much thought, weighing the pros and cons, decided to make masks optional this year, with these precautions:

All participants will need a COVID self test with a negative result in order to attend the weekend.

All participants will need to sign a form regarding testing and falling ill. The form will be sent a week prior to camp. Please fill it out before coming to camp to reduce wait times.


We will have a dedicated "masks mandatory" line for those who wish to dance with a mask.

If the COVID situation should change drastically we reserve the right to change the policy yet again the week before Chehalis, but sincerely hope this will not be necessary.
We are hoping that this will appeal to those in our community who find the "natural" (unmasked) dance experience very important to them. In view of this change in policy, we have extended the early-bird deadline to August 31, and encourage you to take advantage of the early bird savings by registering by that date. We look forward to dancing with you this year at Chehalis.
2023 Talent


Bands
Stringrays: From New England, Max Newman on guitar, Rodney Miller on fiddle, and Stuart Kenney on bass.

KGB: From Seattle, Claude Ginsburg on violin; Dave Bartley on mandolin; guitar, and cittern; and Julie King on piano.

Callers
Lisa Greenleaf from Bolton, MA., and Wendy Graham from Durango, Colorado.

For details, see Bands and Callers.


New Location


Chehalis 2023, at Sullivan Community Hall (see map), is easily accessed from Tsawwassen Ferry Terminal and the US border, and is 45 minutes from downtown Vancouver by car, or 1 hour and 15 minutes from downtown Vancouver by bus (there is a bus stop within half a block of the hall).
We hope more local dancers will consider attending this weekend, as fees are lower than for a residential camp and in alignment with other non-residential dance camps post-COVID. See Registration for details.


Accommodations and Food


See Information for details. We encourage out of town visitors to find accommodation with Vancouver dancers, or at one of a number of reasonably priced hotels and RV/camping sites within a 10-15 minute drive of Sullivan Community Hall.

Just down the street from the hall is a mini-mall with three restaurants, with several more choices within 15 minutes by car, or you are always welcome to bring lunches and dinners to eat in the Hall lunchroom, as many did in Raincoast Ruckus days. Please note that there is no microwave or dishes available for dancers to use.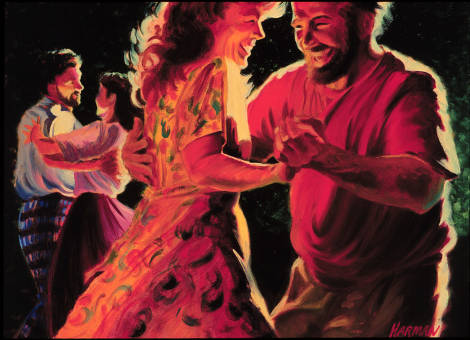 "Laurel and Luther" by June Harman