After much thought and great gnashing of our collective teeth,
the Chehalis Contra Dance Weekend Committee
has decided to postpone camp to September 22-24, 2023.

We miss our Chehalis friends immensely but would like to wait until travel, border and testing regulations, as well as vaccines and variants are more settled and predictable before we hold camp again.

The amazing talent that originally signed on for 2020, KGB, and callers Lisa Greenleaf and Wendy Graham have committed to being with us in 2023. We are hoping the Stringrays will be able to be with us as well. Andy Smith will be doing our sound.

We have every expectation that by 2023 September 22-24 we will be able to gather for a weekend that is totally safe for all. There's nothing that we would like more than to have you be part of our "out of the ashes arises the phoenix" celebration.
NOTE
: With the exception of 2023 dates and the talent information, details given on this site may change as final plans evolve.
2023 Talent


Fortunately, it looks like the fabulous talent originally hired for 2020 will be able to join us in 2023:
Bands
Stringrays: From New England, Max Newman on guitar, Rodney Miller on fiddle, and Stuart Kenney on bass. (Still to be confirmed for 2023.)

KGB: From Seattle, Claude Ginsburg on violin; Dave Bartley on mandolin; guitar, and cittern; and Julie King on piano.

Callers
Lisa Greenleaf from Bolton, MA., and Wendy Graham from Durango, Colorado.

For details, see Bands and Callers.


New Location(s)


The location planned for Chehalis 2023 (to be confirmed), Sullivan Community Hall (see map), is easily accessed from Tsawwassen Ferry Terminal and the US border, and has a bus stop within a half block; driving from City Hall in Vancouver takes approximately 45 minutes.


Accommodations and Food


See Information for details. We encourage out of town visitors to find accommodation with Vancouver dancers, or at one of a number of reasonably priced hotels and RV/camping sites within a 10-15 minute drive of Sullivan Community Hall. Just down the street from the hall is a mini-mall with three restaurants, with several more choices within 15 minutes by car, or you are always welcome to bring lunches and dinners to eat in the Hall lunchroom, as many did in Raincoast Ruckus days.

Reduced Fees


See Registration for details. We are reducing the weekend fees by approximately our cost for camper room and board at our previous location, Camp Luther, and hope more Vancouver dancers will be able to attend this less expensive weekend. Registration will open as health regulations allow, but hopefully in early April, 2023.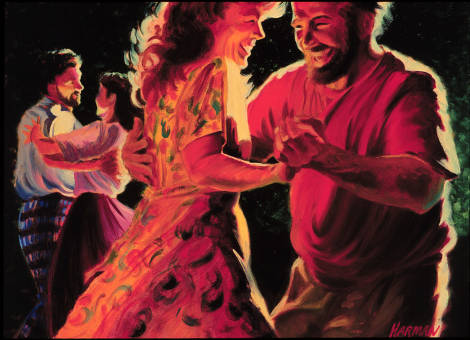 "Laurel and Luther" by June Harman