Join us September 18-20, 2020 at Elgin Hall (Friday night) and Sullivan Community Hall (the rest of the weekend) in Surrey, BC. Surrey is a suburb just southeast of Vancover, BC.


More Info Coming Soon

More information about the weekend will be posted on this website soon;
registration will open in early April.



New Location(s)


The main location, Sullivan Community Hall (see map) is easily accessed from Tsawwassen Ferry Terminal and the US border, and has a bus stop within a half block; driving from City Hall in Vancouver takes approximately 45 minutes.

As we were unable to rent Sullivan Hall for the entire weekend, our Friday night dance will be held 10 minutes away at Elgin Hall (see map), where Vancouver Country Dance has hosted its last dance of the season in June each year.



Accommodations and Food


We encourage out of town visitors to find accommodation with Vancouver dancers, or at one of a number of reasonably priced hotels and RV/camping sites within a 10-15 minute drive of Sullivan Community Hall. Just down the street is a mini-mall with three restaurants, with several more choices within 15 minutes by car, or you are always welcome to bring lunches and dinners to eat in the Hall lunchroom, as many did in Raincoast Ruckus days.



Reduced Fees


We will be reducing the weekend fees by approximately our cost for camper room and board at our previous location, Camp Luther, and hope more Vancouver dancers will be able to attend this less expensive weekend.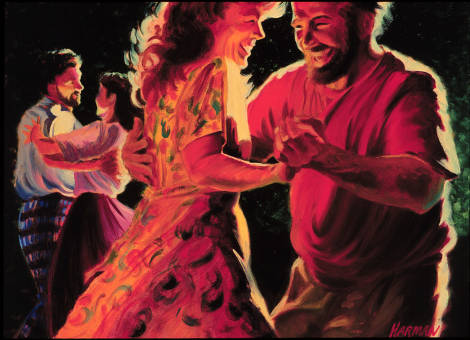 "Laurel and Luther" by June Harman