While my humble hope is that your visit to this website will be informative and useful, please understand that there is also a greater wealth of information, knowledge and expertise out there. There are excellent books, organisations and individual people far more qualified than I to provide deeper insight and information than a website can do. Check your library, or, if you are in New Zealand, not only your local library but also your museums, community groups, educational institutions and local iwi.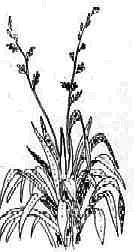 Introduction to Taniko Weaving
Taniko weaving is traditionally done using harakeke the native New Zealand flax Phormium tenax, which is prepared and dyed in a sequence of processes. Preparation can take up to three months and the resulting fibre is called muka. Typically, no tools or loom are used during the weaving process. To support a large piece of weaving, two pegs were pounded into the ground and a line of thread stretched between them. A weaver could not speak or stop weaving until the first row of weaving (te aho tapu) was completed. In modern times a type of frame to support large woven items is often used. While modern materials will almost always include the traditional muka for kakahu (or "kahu" - cloaks) those who do not have access to traditional materials and who weave smaller items for personal use or the tourist trade will often use a type of mercerised twine for the whenu (warp) and embroidery threads for the aho (weft). The results are very different, but each item still demonstrates taniko woven in the traditional weaving process.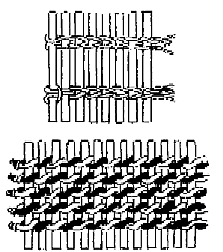 Often called "twining" or "finger weaving" similar forms of this handweaving technique are employed by other cultures around the world. Variations of the whatu aho patahi (single pair twining) and whatu aho rua (double pair twining) methods - shown at left - are used in their basketry, production of cloth and,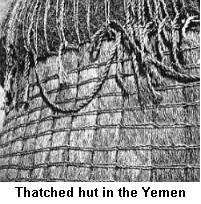 on a much larger scale, even in the thatching techniques used to construct huts in the Yemen (right). Examples of three cultures with weaving techniques and designs that parallel taniko weaving are the Tlingit people of Southeast Alaska with their Ravenstail blankets, the Indian tribes of New England in the American Northeast with their twined and false embroidered pouches, the Bedouin people in Saudi Arabia (see #1 - #3 at bottom of page) and so many more. In New Zealand the Maori word "taniko" is not only the name for the actual weaving technique, but it is also the name given to the rectilinear designs formed by the weaving process - and the finished products, or, in other words, it is design, process and result.
In stand-alone pieces of taniko weaving (not items where taniko weaving is present within the body) it is interesting to note that while the actual weaving technique (or similar) may be found elsewhere around the world, and even elements of taniko designs are seen in many cultures, methods used for starting and finishing a piece of taniko weaving are probably specific to the Maori people. Given the fact that individual items made entirely of taniko weaving are a fairly modern innovation, e.g. belts, cigarette cases, guitar straps, coin purses, hat bands etc, it is most likely that the techniques for starting and finishing these pieces were also developed within the last 75 to 100 years, based on the technique used in the manufacture of piupiu.
It must also be said that taniko designs are extremely versatile and may be interpreted and reproduced using a wide variety of methods and materials, each with unique results. Knitting, applique, patchwork, needlepoint, painting, screenprinting, quilting, wood burning, tile, inlay and mosaic work - the list and the possibilities for the rectilinear designs is endless, bounded only by the artist or craftperson's imagination.
As late as the 1970s and 1980s taniko was almost a lost art in New Zealand. Few people, Maori or pakeha practiced taniko weaving. One American visitor who read a book about taniko weaving while travelling to New Zealand thought it was her duty to "modernize" and "breathe new life" into taniko. Having rejected and dismissed the traditional Maori designs and the weavers who wove them without regard, consideration or sensitivity, the items shown in her subsequent book were not intrinsically New Zealand taniko weaving but, instead, items that could have been woven by weavers from any culture around the world using a twined method of finger weaving.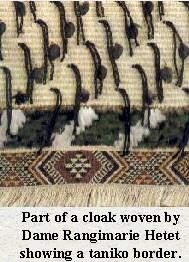 It is the Maori people themselves who are breathing legitimate new life into their work and interest in the Maori culture. Along with many other creative activities Taniko weaving, as one form of the weaving arts, continues to evolve with mature, expert weavers passing on their knowledge and young weaving artists creating exciting and interesting new designs while at the same time preserving a part of their cultural heritage in a significant and meaningful manner. Te Ropu Raranga Whatu o Aotearoa, the National Maori Weavers Collective of New Zealand, is the most energetic group fostering knowledge of all areas of weaving. The weavers involved with this organisation are among the most respected and accomplished weavers in New Zealand. They have mounted a truly wonderful exhibition "Te Aho Mutunga Kore - The Eternal Thread" which is currently touring several cities in North America.
The Ohaki Maori Weavers near Waitomo, NZ are another very active and well known group of weavers. Mrs Diggeress Te Kanawa, who heads the organisation, is one of New Zealand's most prominent and accomplished weavers. Her mother, Dame Rangimarie Hetet, was New Zealand's most famous weaver and long considered a Living Treasure until her death in June 1995 at the age of 103. It is my considered opinion that Mrs Te Kanawa fully deserves the same title of Living Treasure.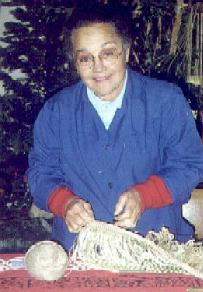 The New Zealand Maori Arts & Crafts Institute at Te Puia, formerly known as Whakarewarewa, near Rotorua, N.Z., is another organisation where the weaving arts are being taught and practiced traditionally. Many beautiful works that include taniko weaving are on display. In 1991 I was privileged to visit the weaving centre and meet with Mrs Emily Schuster, another very well known Master Weaver who was, at that time, the Women's Cultural Manager at the Institute. She graciously spent over 2 hours with me, looking at some of my work and discussing taniko techniques and materials with me. It is a memory that I will treasure for the rest of my life, along with the photo I took of her at that time (shown at left). I was deeply saddened to hear of her untimely passing in October 1997.
These amazing weavers, and well-known author, Hirini Moko Mead who also published books on taniko weaving under his English name, Sydney M. Mead, (see the book list elsewhere on this website) have been actively responsible for the resurgence of interest in the weaving arts of the Maori people.