About the Author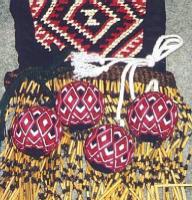 Many different craft activities have interested me over the years, and in some cases I've used either Maori designs or even created items based on Maori culture using craft techniques from other cultures, (image right - poi created with a taniko-type design(©) stitched on thread-wrapped balls ). Another technique I experimented with was taniko weaving combined with elements of Raven's Tail weaving, a form of the twining technique from the Tlingit people of S.E. Alaska. The two types of weaving are almost identical but not necessarily always compatible. To put it mildly, I had some rather "interesting" results!
Not long ago, someone looked at my most recent pieces of weaving and while appearing to admire them asked me if I'd ever use the kete I'd created. I replied "Probably not". Her comment was "What a waste!" That off-the-cuff remark left me somewhat stunned and hurt. I don't look at my creations as "a waste". Each and every one of them was a journey, exploring a new technique, experimenting with new or different fibres, perhaps new or different colour tones or shades in the taniko weaving, or a new design I just created on paper. The finished product is something I can take pride in the accomplishment and joy and pleasure from the beauty of the design or the patterns created in the actual weaving process. If I choose to use the item, then it's because I want to, not because someone else thinks I should. And if the item is admired by other people... bonus!
I have been weaving since the beginning of 1959. My first efforts at taniko weaving were turned into belts by a saddler who backed them with leather and added buckles, etc. (I do it myself these days!) At that time he told my Mother about how few active taniko weavers there were, that it was almost a lost art, and he encouraged me to always keep weaving, never to forget it. One time he even gave me some helful suggestions, showing me taniko weaving that he'd just finished with backing and hardware, done by an adult Maori weaver. That tiny, wizened old man was someone who took an interest in a 10 year old child's first efforts and in his encouragement, made a huge impact on my life as a weaver. All these years later, I find myself still learning technique and style nuances of the art.
In 1975 I left New Zealand to marry and live in Canada. Since coming here I have had almost no contact with anyone I could discuss the weaving arts and increase my knowledge, or at least view other pieces of weaving first hand. Ofcourse museums that have (usually small) Maori collections, have also occasionally been interesting and useful in observing and furthering my knowledge of weaving taniko and whatu (also known as the cloak weave) - the two areas of the weaving arts that are of specific interest to me.
However, while I was home visiting my family in 1991, visits to two different institutions had, in many ways, a profound and lasting impact. Dame Rangimarie Hetet was a woman whom I had practically revered as a weaver for many years, and an exhibition of her weaving was being presented at the Waikato Museum of Art and History in Hamilton at that time. (I believe it may now be part of their permanent collection.) I visited the exhibition three times, and also went down to the Waitomo area to visit the Ohaki Weavers, although everyone was taking a much needed and well-earned day off on the day I visited. During a trip to Rotorua, I visited the New Zealand Maori Arts and Crafts Institute at Whakarewarewa (now known as Te Puia) in Rotorua, where I met a wonderful lady, Mrs Emily Schuster, a true master weaver, and I spent two unforgettable hours in the weaving centre talking with her.
Weaving taniko and whatu have been a part of my life for so long that whether I continue to weave on a sustained basis, or intermittently as the arthritis in my hands allows, these are old friends, ones that I feel comfortable and "at home" with, and it is never a chore or a burden to sit down and weave.
Copyright 1999 - 2006(©), Judy Shorten