Welcome to the Manhattan
Welcome to the Manhattan Housing Co-Operative home page! We know our site is a bit antiquated, but so is our building, and we still love them both. We're still updating our site too, so be sure to stop by here for periodic updates and a blast from the internet past.
---
News & Updates
Waitlist now open!
We are happy to announce that the Manhattan has temporarily opened its waiting pool to new applicants. Please note there are no units available at this time. Applications are for placement on our waitlist for future vacancies, should one become available. Please see our apply page for instructions on applying to join the wait pool.
---
Our Membership and Community
The Manhattan is a member-operated housing co-operative established in 1982 and located in downtown Vancouver, British Columbia, on the unceded territories of the Squamish, Musqueam and Tsleil-Waututh First Nations.
Our purpose is to provide a not-for-profit alternative to market renting in Vancouver. Our members comprise community that strives to maintain a mix of people of various ages, occupations, skills, experiences and financial backgrounds that is reflective of the diversity that exists within Vancouver. We function on the principle of membership participation and involvement, where all members are required to serve on committees and/or the Board of Directors to collectively run the co-op.
The Manhattan is committed to being safe space that works to promote inclusivity.
The Building
The Manhattan is one of downtown Vancouver's oldest buildings, constructed in 1908. In 1979, the building was saved from demolition by residents who formed the Manhattan Co-operative Housing Association, and mounted a "Save the Manhattan" campaign which eventually helped to secure a mortgage through the Canadian Mortgage and Housing Corporation.
The Manhattan's 44 suites range in size from 600 to 800 square feet. Most are one bedroom units with a living room, kitchen and bathroom and additional room suitable for a dining room, den or second bedroom.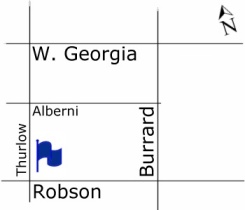 We are located on the North East corner of Thurlow and Robson streets.
You can write to the co-op at:
The Manhattan Co-op
#45 - 784 Thurlow St.
Vancouver, BC, Canada
V6E 1V9

back to top