Becoming a Member
Our Criteria & Process
As a non-profit housing co-operative providing reasonably priced housing for people with low to moderate incomes, the Manhattan strives to maintain a mixed membership of people of various ages, representing a variety of occupations, skills, and financial backgrounds.
The Membership Committee is responsible for selecting new Members. These Committee Members represent a cross-section of the Manhattan membership and have and have an understanding of the issues and concerns of the co-op. When choosing a new Member, they base their decision on the prospective Member's application and a subsequent interview.
When an applicant has passed the initial interview, they become part of a waiting pool (in contrast to a waitlist, the wait pool is not first come, first served). From this pool, a prospective Member is selected when a suite becomes available. The Membership Committee then seeks approval for its recommendation from the Board of Directors at a regular Board meeting.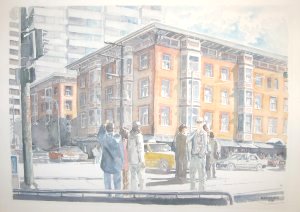 M. Kluckner, 1995
Apply for the Waiting Pool
Download an application form in PDF format. Then print it out and mail it to:
The Membership Committee
Manhattan Co-op
#45 - 784 Thurlow St.
Vancouver, BC
V6E 1V9

We appreciate your interest in becoming a Member. Unfortunately we are not able to respond to applications, and will only contact applicants should they be required for an interview.