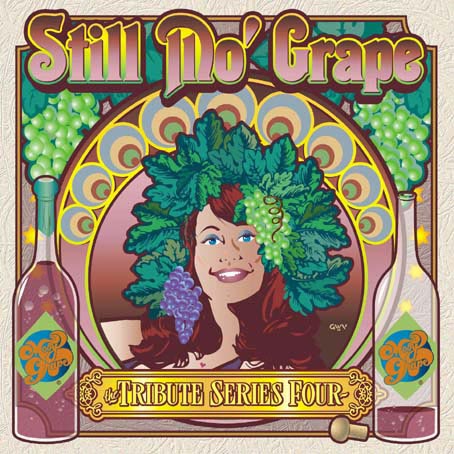 STILL MO' GRAPE
The Fourth Moby Grape Tribute

---
Compilation:Bill Morse
All Artwork: Greg Volpert
Web Page:Paul Gouldhawke
Special Thanks To: Connie Mosley, Moby Grape, the Grapestalkers,
and the Yahoo Grape list

---
MP3's of the songs for our tributes can be downloaded here:
[ MO' GRAPE ]
[ EVEN MO' GRAPE ]
[ STILL MO' GRAPE ]
[ FOREVER MO' ]
[ JUST SAY MO' ]
[ PLUCKED ]
---
TRACK LISTINGS
---
1. GrapeStock - JoJo & the GrapeStalkers 4:33 : 2. What's To Choose - Chris Christensen (On The Edge) 2:02 : 3. I Am Not Willing - Chris Christensen (On The Edge) 4:21 : 4. Move Down Town - Chris Christensen (On The Edge) 3:33 : 5. Looper - John Lisiecki 2:57 : 6. Mr. Blues - Bill Morse 2:35 : 7. Changes - Peter Schindelman 3:40 : 8. Too Old to Boogie - Dan Fassett & Blue Plate Special 4:29 : 9. Truly Fine Citizen - Alec Newell (The Rockin' Al's)3:22 : 10. If I Were President - Phantom Saloonsters 3:08 : 11. Sweet Ride - Power Munchkins 3:46 : 12. Bee-Yoo-Tiful Day - Stephen Patt 2:38 : 13. Love You So Much - Stooed 3:54 : 14. Land of the Sun - Northern Raisins 5:32 : 15. Three Four - Martin Bobbe 3:43 : 16. Ain't That a Shame - Martin Bobbe 2:47 : 17. If You Can't Learn From My Mistakes - Martin Bobbe 2:06 : 18. Right Before My Eyes - Martin Bobbe 1:54
---
CREDITS: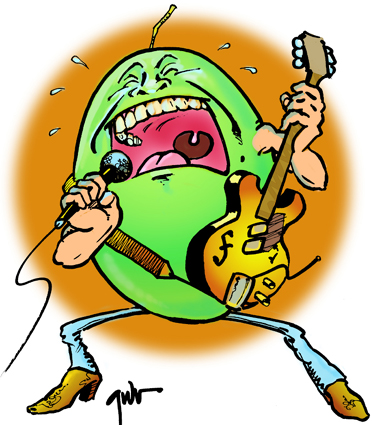 GRAPESTOCK(4:33)(Jojo Fox)
performed by The Grapestalkers

Jojo Fox -Vocal and Rhythm Guitar
Bill Morse -12 String Guitar, Bass, Organ and Sax
Peter Schindelman -Backing Vocals
John Lisiecki -Guitar Solos
Chris Christensen -Drums
Eric Elmer -Harp


[ Jojo Fox ] :
The beginnings of the song "Grapestock" were in actuality pretty bland. No great epiphany or anything. It was 4th of July weekend 2005 and I was sick with the flu or something. Pretty miserable. Tom & I were at home doing NOT MUCH. Even the dogs were bored. We did grill some food, but mostly I permanently couched it or staggered out to the lounge chair in the backyard for some nourishing rays of sun (which usually resulted in diffuse sweating and weakness, so I didn't continue this for very long.) Later on for no reason in particular, the lyrics started coming into my head. I grabbed a pencil. I got the 1st verse and chorus quick, then was stuck on the 2nd verse. So I cheated a little. I was going to simply look at the song titles on Moby Grape's 1st album for inspiration, something to kick start myself, but then I had a weirder idea: Take all of the song titles, write them down, throw them into a Moby Soup, so to speak, and blindly pull them out and string them together, and see what kinda sense they made. Didn't some of those beatnik poets in the days of Kerouac and Allen Ginsberg do stuff like this? I was snickering at the thought that it would actually work, but it sort of did. That was how the 2nd verse came to be.
I tried the song out with Larry Hosford's gang at a couple of Thursday Windjammer shows (letting them know this was gonna be played for the Grape Nuts who showed up to Olema). No sweat. They slipped right into it. Then (as they say), Grapestock happened. End of July 2005. Olema, California. We played it at the Old Western Saloon on Saturday night.
OH: To rewind to a few hours prior: On Saturday morning (well, it was probably closer to noon), back at the campground, Deb asked me to play it for her, give her a preview. So I grabbed my acoustic guitar and did. That was neat. She had me play it again for Debbie and I think Barbara. Soon after, John Darsey wandered over, then Bill Morse, and pretty soon we had a big circle, and we launched ourselves into a day-long jam there at the campground. Ahhh....those were the days...hehe
So to wrap this up, we got back home from Grapestock the event and there's a post from Bill Morse, suggesting we all record the song. I sent him my vocal and acoustic guide tracks, shipped myself and Tom off to Merry Old England for a few weeks, and the rest is history...we arrived home and a few weeks later, voila! There was the completed version of Grapestock on my computer, courtesy of Bill M. He can pick up the thread here about all the "real" work that went into creating such a fun, snappy version of the tune. (That sax solo rocks, btw!)
While were we jamming at Grapestock, Chris Christensen and I got to talking about doing a "remote" collaboration. JoJo's song seemed like the perfect opportunity to put it to the test.
I have an online storage account, Streamload.com, which allows me to store large WAV files, and allows others to upload them and download them. So I asked JoJo to record her vocal and rhythm guitar, accompanied by a metronome. These were to be used as guides while we assembled the rest of the song, and then the final step would be to get her keeper tracks. She uploaded her WAV files to Streamload. I downloaded them, and imported them into my recording software (Logic Pro - for Macs).
I made a quick composite mix, and posted it on my Streamload site. Chris downloaded it, imported it into his recording software, and recorded his drum tracks. Which he then Streamloaded to me. I imported his drums, then overdubbed the 12-string guitar in the intro, the bass, organ, and sax.
I did a stereo mix of everything so far, and posted it to Streamload. I asked some musical friends, who had each appeared on at least one of the Mo' Grape tributes, to help me flesh out the recording.
John Lisiecki contributed the guitar solos. Peter Schindelman did the vocal harmonies. Eric Elmer blew the harp. (Eric appeared on "Even Mo' Grape", as lead vocalist on the Bridgeburners' version of "Hey Grandma".)
They Streamloaded their parts to me, I did a semi-final mix, then back to JoJo for her "keeper" vocal and guitar. When she sent those back to me, I did the FINAL mix, and I'm very proud of the way it all came together. Almost like we were playing in the same room!
Bill
---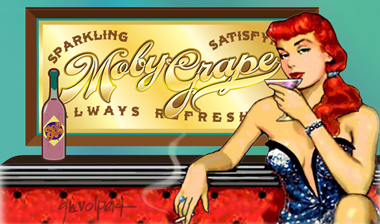 WHAT'S TO CHOOSE (Lewis) (2:02)
I AM NOT WILLING (Lewis) (4:21)
MOVE DOWN TOWN (Mosley) (3:33)
performed by On The Edge
John Chris Christensen
"What's To Choose"
The Lauras (Laura Christensen & Laura Montoya) and Eric Bradfield - Background vocals
Eric Bradfield - vocal wrangler and rapper/entertainer
Damien Smith - acoustic guitars and geographical layout
John "Chris" Christensen - lead and background vocals. All other instruments
"I Am Not Willing"
Bill Morse - acoustic guitars, electric slide, cartography, and guidance
Damien Smith - Strat Tones, and second ears
"Move Down Town"
Laura Christensen - All background vocals and "Disco Attitude"
John "Chris" Christensen - lead vocals and all instruments
All songs recorded, mixed, and mastered at Mad Labs Studio in Lakewood Ca, during March and April 2006.
Produced, engineered, and mangled by John "Chris" Christensen with significant help by secondary arrangers, ears and back-seat drivers; Bill Morse, Damien Smith, Eric Bradfield, and The Lauras
Special thanks to Paul Gouldhawke, Bill Morse, Connie & Bob, JoJo, and all you other Grapestockers for keeping the flame burning. Thanks to Skip, Bob, Jerry, Peter, and Don for their continued inspiration with the gift that keeps on giving.
Special, "Special Thanks" to my wife Margie who makes each day better than the one before. Why God blessed me with her I'll never understand.
John "Chris" Christensen - April 24, 2006
---
LOOPER (Lewis) (2:57)
performed by John Lisiecki
It wasn't until I was 90% done that I realized I actually did a different version of "Looper" then the official release on Truly Fine Citizen. I should have known by the inclusion of the word "Alt" in the title, that this was an early/odd take.
Then again, when I heard the other "official" version, I hated it. It was slow and bluesy, and had none of the melodic charm.
Then after all of that, I heard a live version of it that was based on the "Alt" version I covered, and it was amazing - the tempo was really fast, and they just ripped through it. It reminded me of what you hear when you're in the presence of a real good bunch of musicians - songs changed from night to night based on how they were feeling/thinking. Where's that today?
Thanks for letting me be involved in the project, by the way - it's a great way to be introduced to a great band's music.
As far as credits, it's a home recording, and I'm playing and > singing (for better or worse) everything.
- drums
- 2 rhythm electric guitars
- solo electric guitar
- fuzz electric guitar (choruses only)
- bass
- 2 lap steel guitars (only during the guitar solo, and end of solo)
- lead vocal
- 4 background vocals
- 16 tracks total
John Lisiecki
---
MR. BLUES(Mosley) (2:35)
performed by Bill Morse
All instruments and vocals by Bill Morse
---
CHANGES (3:40)
performed by Peter Schindelman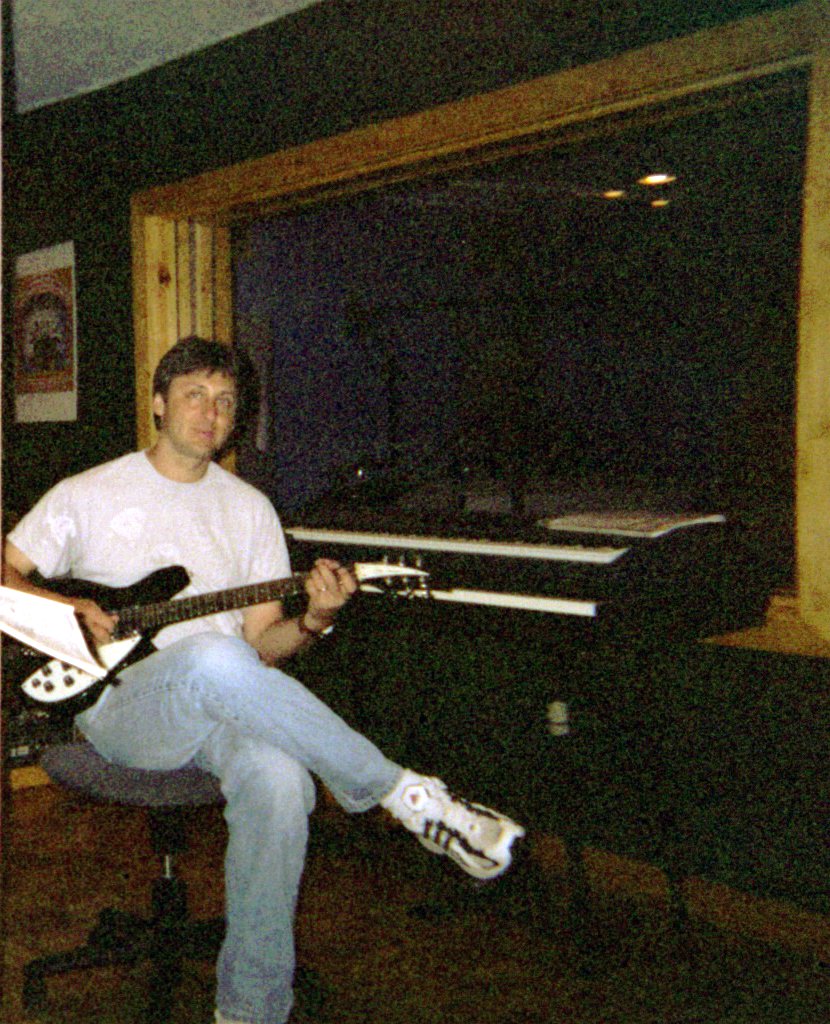 Recorded/mixed on March 16, 17, 20, 21, 23 and 24, 2006 via Cool Edit CCPro 1.2 and an Event Layla 20 sound card.

Instrumentation:

Electric Rhythm and Lead guitars, Bass, Drums, COrgan, Lead & Harmony Vocals

(This is the first song I recorded with my recently acquired used AKG D112 on the kick drum.)
Thanks,
Peter Schindelman















---
TOO OLD TO BOOGIE (Miller) (4:29)
performed by Dan (Fassett with Blue Plate Special
Dan Fassett - lead vocals, harmonica
with Blue Plate Special:
Gary Cardone -- guitars, vocals
C Steve Esposito -- keyboards, vocals
Arte Kenyon -- upright bass, vocals
Tom Monaghan -- drums
---
TRULY FINE CITIZEN (T' Del Ara) (3:22)
performed by Alec Newell
Instrumental version - all instruments by Al Newell, aka The Rockin' Al's
I was tempted to do a cover of Truly Fine Citizen for the earlier tributes, but couldn't quite peg the lyrics. Finally, I decided that the melody was so strong in this song that it would probably hold up as an instrumental, and found it really lent itself to the double lead guitar thing. It's such a great tune.
---
IF I WERE PRESIDENT(Mark Lashley) (3:08)
performed by Grape Escape
This is a track that was supposed to be on our Taxim CD

This is an updated version of the first (vinyl) recording of The Grape Escape. It originally had Jerry Miller on lead guitar as our special guest and was backed with a Miller/CJ composition "She Was Only Fifteen"
Copies are still available thru CJ. This version was to be included in "Project Grape Escape - A Vine Way To Escape" on Taxim Records.
Bill Champlin recorded this song as a demo in the early 80's.
---
SWEET RIDE (3:46)(Mosley)
performed by The Power Munchkins

Originally a side project of the California Navels (viz. liner notes for Forever Mo' Grape), The Power Munchkins has evolved into a roving-or raving-or both-band of musical lunatics that has performed tributes to Skip Spence, the Small Faces and Steppenwolf in dives throughout the greater(?) Los Angeles area. This here particular recording features the stellar vocals of Amanda Mullins (Sounds of Asteroth, Petra Haden's Sellouts) and blog-goddess Tracy Landecker, the whompin' drums of blushing-bride-to-be Tammy Bumann, the dulcet bass tones of Mark Fletcher (California Navels), the meandering guitar of Larry Jacobson (nobody in particular), and the deluxe keyboard stylings of Josh Gordon (Jason Faulkner, Albert King). It was recorded and mixed by Josh on his very own fab gear (which is far too complicated for this writer's simple brain to understand), with overdubs lobbed in the general direction of an eMac running that GarageBand program the kids love so much nowadays. Isn't modern technology just the gnat's eyebrow?
We did this song because Mark saw the movie once.
---
IT'S A BEAUTIFUL DAY (Mosley) (2:38)
performed by Stephen Patt
One of my favorite tunes from the Grape body of work--a truly positive song that's a reminder of our brief and fragile existence here on Earth.
Recording was at Twangtown Studios in Topanga, California, with Stephen Patt on all instruments and vocals.
Dedication is to Skip Spence. Stephen Patt is an ex-Chambers Brother, Ccurrently playing steel guitar
in Southern California with the Eagles tribute band The Long Run and his original roots rock group Twangtown.
---
LOVE YOU SO MUCH (Miller) (3:54)
performed by Stooed
Ryan Williams - Bass
Mark Baird - Percussion
Doug Boissonault - Drums & backing vocal
Regan Ryzuk - Keyboards
Dave Williams - Guitar & vocals
Recording - Don Sternecker/Mix-O-Lydian Studios
---
LAND OF THE SUN (Spence) (5:32)
performed by The Northern Raisins
Alec Newell aka Blind Owl Raisin- guitar, harmonica, bass and drums
Paul Gouldhawke aka Lefty Raisin - vocal
Backing tracks recorded at Above the Bakery Studio, Toronto, Canada
Vocal recorded at Hoovercraft Studio - Delta, B.C. March 29, 2006
Paul contacted me to ask about the two of us possibly covering another song together for this tribute, and Land Of The Sun was the one we settled on. I knew of the song but didn't have a copy here at home to work from, so Jojo graciously sent me an MP3. (Thanks again, Jojo.) I recorded the bass, drums and guitars here at home on my analog 4-track, then sent the tracks to Paul, who added the vocals at Lou's studio. I really enjoying working up this arrangement of Skip and Brian's song, and had a blast doing the recordings... (gave me a chance to get my old Boss DD2 digital delay pedal out of the closet... not to mention the wah-wah...sigh, I love old technology.)
Once again, many many thanks to Bill Morse for continuing to make this possible for all of us.
I thought Land Of The Sun had a lot of potential, and when Al gave the opposable thumbs up we began our latest recording adventure...
This song was originally recorded by Skip Spence and Brian Vaughan in December of 1995. It was intended for the X-Files soundtrack album. More on that over here: [ Seeing Skip Spence ]
Brian deciphered the lyrics and emailed them to me, I added a few more lyrics (all written by Skip) and ventured out to Lou Hoover's studio at the end of March, where I did the vocal.
---
>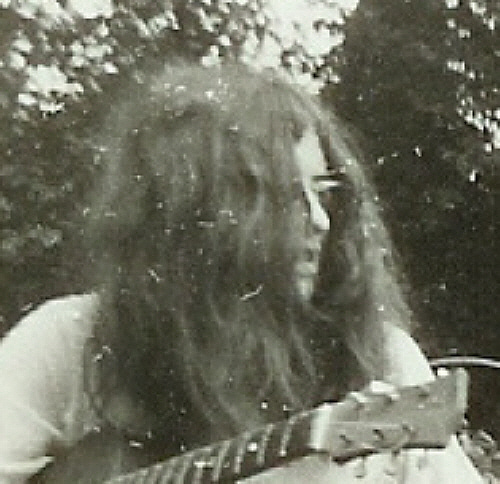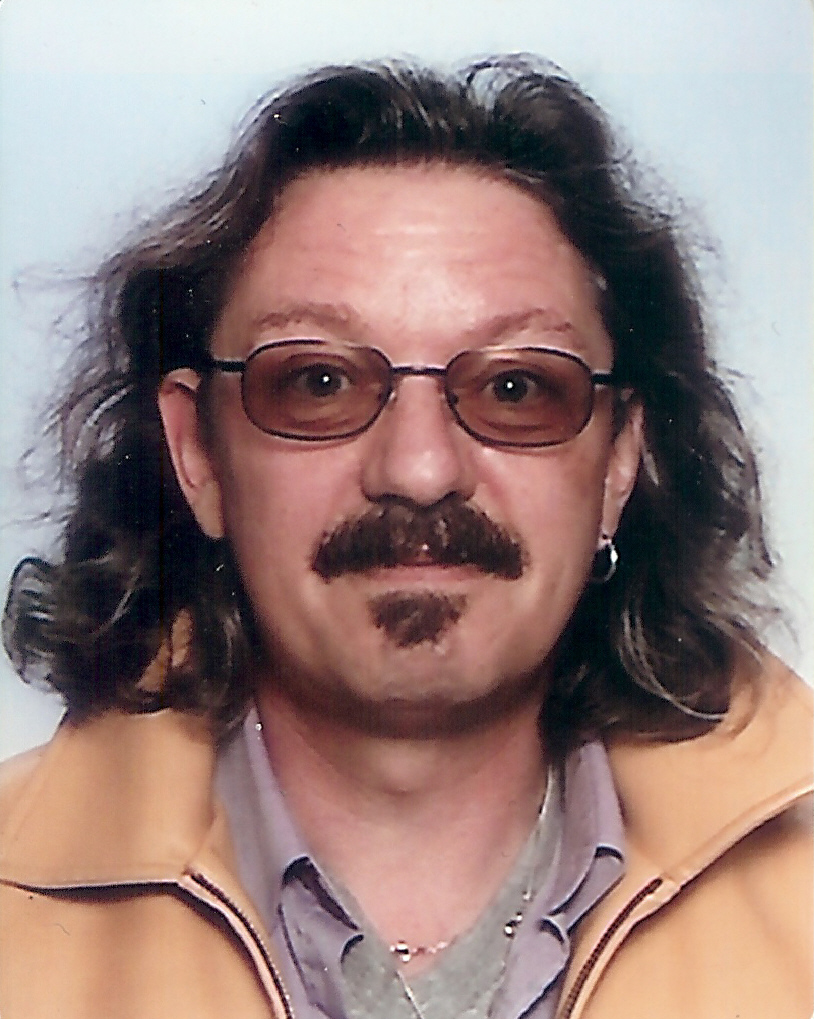 MARTIN 1970                       MARTIN 2006           

THREE-FOUR (Mosley) (3:43)
AIN'T THAT A SHAME (Lewis/Miller/Stevenson) (2:47)
IF YOU CAN'T LEARN FROM MY MISTAKES (Lewis) (2:06)
RIGHT BEFORE MY EYES (Lewis) (1:54)
performed by Martin Bobbe
Me: Vocals
Myself: Acoustic Nylon and Steel String Guitar
I: Bass Guitar

This time around I chose some songs I've been playing around with when the relating albums were released but weren't added to my songbook until I got access to the Grape's on-line lyrics some five years ago. Three-Four is the exception to this rule: I've often sang it accapella when the microphones had to be soundchecked before a gig, matter of fact: together with Tim Buckley's "Song To The Siren" it's probably my fave soundcheck song ;^) The other three are just so much fun to play that there wasn't really any selection process necessary, I just love to play them tunes ! Peace, Martin


LINKS OF INTEREST:
[ MO' GRAPE ] [ EVEN MO' GRAPE ] [ FOREVER MO' ]

[ PLUCKED - The Sixties' Tribute ]
[ The ROGUE'S GALLERY ] Pictures of Tribute personnel

---