---
Old news
BC Hydro's Power Smart team came in and replaced our old incandescent bulbs with energy-efficient light bulbs. Read about it in their press release with picture.

---

The Manhattan Co-op is a member-operated non-profit housing co-operative located in downtown Vancouver, British Columbia, Canada. It operates in part through the financial support of the Canada Mortgage and Housing Corporation (CMHC)

Co-operative housing is an alternative to buying, not renting. Members are responsible for everything from day-to-day cleaning and maintenance to financial management and long-term planning. All members are required to participate in the co-op serving on committees and/or the Board of Directors.

The Manhattan's 44 suites range from 600 to 800 square feet, many of a non-conventional configuration. Most are one bedrooms with another room suitable for a dining room, den or second bedroom depending on personal preference.


The Manhattan is located at the northeast corner of Robson and Thurlow streets downtown, above the infamous "intersection with two Starbucks":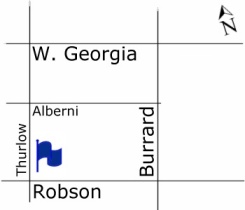 You can write to the co-op at:
The Manhattan Co-op
#45 - 784 Thurlow St.
Vancouver, BC, Canada
V6E 1V9

The Manhattan Co-op does not have an email address, due to the vast amount of spam the old email address was getting.

To apply for membership, go to the apply page. Do not email us!