About the Membership, and our community
The Manhattan is a non-profit housing co-operative that provides an alternative to market rents in Vancouver. Our membership is a community that strives to maintain a mix of people of various ages that represent a variety of occupations, skills, and financial backgrounds.
The Membership Committee represents a cross-section of the Manhattan Membership and have an understanding of the issues and concerns of the Co-op. Reviews of applications to live in the Manhattan are based on several criteria that includes community contribution and fit, family size, and housing needs.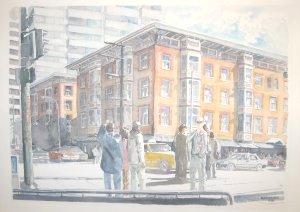 M. Kluckner, 1995
Applications Currently Closed
Due to the number of applicants waiting for interview, and the size of our wait pool for approved members, the Manhattan housing Co-Op is not accepting applications for membership at this time.
Thank you for your interest in our community. We will update this page when we are able to accept applications again.