As a non-profit housing co-operative providing reasonably priced housing for people with low to moderate incomes, the Manhattan strives to maintain a mixed membership of people of various ages, representing a variety of occupations, skills and financial backgrounds. We evaluate applicant income hased on the total household income. Income is only verified at the application phase or when a membership offer is extended. We do not use any rent geared to income based housing charges so once membership has been granted you will not have to supply income information during you membership. The current minimum income required to apply is 32 ~ 37k per year and a usually a maximum of 90k per year.
The Membership Committee is responsible for selecting new Members. These Committee members represent a cross-section of the Manhattan Membership and have an understanding of the issues and concerns of the Co-op.
You can apply to the Manhattan Co-op by downloading an application form.(you will need the free Adobe Acrobat Reader).
Then print out the form, fill it in, and mail to:
The Membership Committee
Manhattan Co-op
#45 - 784 Thurlow St.
Vancouver, BC
V6E 1V9

The written application gives the Committee information from which to make its decision on whether to hold an interview. Usually four to five Membership Committee members are present at an interview, and the final decision to accept an applicant into the waiting pool allows only one dissenting vote.

When an applicant has passed the initial interview, he or she becomes part of a waiting pool (not a waiting list; it's not first-come, first-served). From this pool, a prospective Member is selected when a suite becomes available. The Membership Committee seeks approval for its recommendation from the Board of Directors at a regular Board meeting.

Obviously, not everyone who applies to the Manhattan can become a Member. It is important to note that the rejection of an application may be based simply on the fact that the applicant did not fit the search criteria at a given time. People are free to re-apply at any time.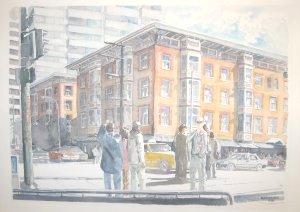 M. Kluckner, 1995