Uniquely Hawarden, Four-Times Over
An Essay by Roger Gordon Smith

To the local population in and around Hawarden in the county of Flintshire, north Wales (regional map), the village at the top of the 80-metre hill has a unique name, and one that many non-locals find hard to pronounce. A visitor to the area will often give themselves away -- much to the amusement of the natives -- by uttering a variety of odd sounds and unnecessary syllables, oblivious to the fact that the locals pronounce the name of their village, simply, har-den.
Many English people assume Hawarden to be a Welsh name, simply because they cannot pronounce it, but its origins are very much Old English. John Garnons Williams, in his web page Mapping Medieval Wales, suggests that the earliest record for Hawarden was Haordine in 1086, this derived from the Old English heah (meaning high) and worthign (meaning enclosure or farm). The Welsh name for Hawarden is Penarlâg; it neither looks nor sounds like the English name, but its derivation is very much along the same lines: pen (meaning head or top) and gardd (meaning garden or enclosure).
Hawarden is a large village, its population exceeding 12 000 people. It even has an airport 3 km-east of its centre that shares its name. It is at Hawarden Airport -- specifically, at the Airbus-Chester factory there -- that the wings for all of Airbus's aircraft are manufactured.
Hawarden's most famous resident, contemporary footballers excepted (Michael Owen -- currently playing club football with Newcastle United, and international football with England -- is from Hawarden), is Sir William Ewart Gladstone (1809-1898). Sir William served as the Prime Minister of the United Kingdom on four separate occasions. The Gladstone Estate was -- and still is -- in the village of Hawarden, in the grounds of the imposing Hawarden Castle Estate. Another legacy of Sir William, albeit unwittingly, and much to the surprise of the locals, is the presence of at least three more Hawardens, each in a different country, and all being named after their village in north Wales.
So, to the residents of Hawarden, Saskatchewan, Canada; Hawarden, North Canterbury, South Island, New Zealand; Hawarden, north Wales, U.K.; and Hawarden, Iowa, U.S.A.; I welcome you each to all!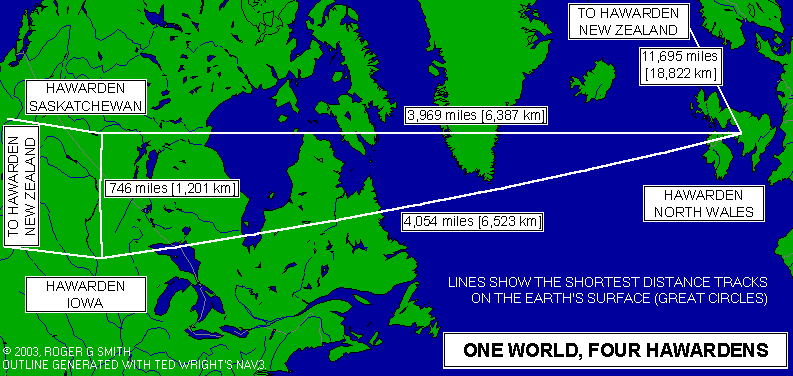 The village of Hawarden in the Canadian province of Saskatchewan is rural by any standard: it is located in the centre of the vast, rolling grasslands known as the prairies. The relative flatness of this terrain belies the fact that the village stands taller than all the other Hawardens; it is approximately 610-metre above mean sea level, not that any sea is close to it! It is a small village, its current population approximately 60-people and, sadly, declining. It is situated 80 km-south of the city of Saskatoon, and approximately 6 387 km from its Welsh namesake.
Not only is Saskatchewan's Hawarden named after Sir William Ewart Gladstone's Hawarden Castle Estate in north Wales, but also many of its streets are named after him, his family, or his local area. People from Chester and northeast Wales will find street names such as Gladstone Street, Ewart Street, Chester Avenue, and Dee Avenue to be most familiar (for those unfamiliar with the Welsh Hawarden, it is situated close to the English city of Chester, and to the river that runs through Chester, the River Dee). Darice Carlson, Secretary/Treasurer for the village of Hawarden, Saskatchewan, informs me that, "if you're a local yocal ... [we pronounce it] ... HAY-war-den". Darice also informs me that her village had its 90th-birthday celebration in the summer of 1999. Hey, fellow Canadians: Happy Birthday Hawarden!
South of the Canada-U.S.A border, approximately 6 523 km from its Welsh namesake, is the rural City of Hawarden in the state of Iowa. It lies at an elevation of approximately 360-metre in Sioux County, next to the Big Sioux River in the northwest corner of the state. The nearest large city, Sioux City, is located 56 km-south. Iowa's Hawarden, like the Welsh village, boasts an airport, it too being called Hawarden Airport. The city designation will somewhat bemuse the residents of the village of Hawarden in north Wales: the American city's population is approximately 2 600, just over one-fifth of that of the Welsh village!
Monte Harvey, one of the City of Hawarden's doctors (and whose web site efforts will be appreciated by visiting the City of Hawarden web site), informs me that his Hawarden is pronounced, "HAY-war-den. Hay like the bale of hay from the fields around here". He further informs me that:
I am by no means an historical expert, but as I understand it, the [original] community ... [called] ... Calliope was formed on the banks of the Big Sioux River in 1869. 15 years later (1885), a "daughter-city" was formed on higher ground about a half mile away, where the spring thaw didn't turn the entire town into a swampy mess. That group called their outpost Hawarden after an English nobleman of some import to the community. Either land or money, no doubt. Anyway, over time, the majority of the settlers decided higher ground was much smarter and then the railroad put in a spur line from the main trunk in Sioux City and it stopped on higher ground. The fate of Calliope and Hawarden was sealed. At this point, the only remnants of Calliope Village is the historical society effort by the river.
I was interested by Dr Harvey's reference to, "an English nobleman of some import to the community. Either land or money, no doubt". A read of the Calliope and Hawarden History page on the City of Hawarden's web site reveals all:
Just as Calliope was formed around the river, the Chicago and Northwestern railroad became the hub for another group of homes, stores and activity. The new community took the name "Hawarden" on honor of the English statesman, Gladstone, whose county seat was Hawarden.
So, Iowa's Hawarden, like Saskatchewan's Hawarden, was named after the village of Hawarden in north Wales.
Moving now to the south Pacific, we find the small township of Hawarden in North Canterbury, New Zealand, 18 822 km from its Welsh namesake. It lies on the South Island, at an elevation of approximately 250-metre.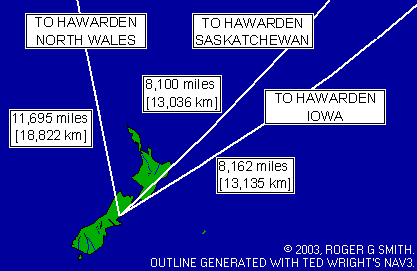 Paul Munnerley, a teacher at Hurunui College in Hawarden, informs me that:
Our Hawarden is a small township of about 250 people located on a crossroad in rural North Canterbury 70km north of Christchurch in the South Island of New Zealand. Hawarden appeared as a township about 1880, with a railway line arriving in 1883 - the railway disappeared in the mid 1970s (economic decline)! Hawarden is a service town for the farming district around it. The main activities in the town are an Area School (students from 5 to 18 years old) a rural transport firm, a service station and bus company, a small supermarket, a rural supply store, a tavern, a volunteer fire brigade and several other small locally owned businesses.
Paul informs me that his Hawarden is pronounced Har-din, and the origin of his village's name, like the others, appears to have strong north Walian roots:
Our Hawarden was originally going to be called Gladstone (yes- after that Prime Minister) but it was changed to his ancestral seat of Hawarden. (There is a town in our North Island called Gladstone perhaps that is why we changed?) We do however have a Gladstone St in Hawarden in William's honour!
So, there we have it. Uniquely Hawarden, four-times over. The next time my fellow north Walians hear someone pronounce their village HAY-war-den or Har-din, it would be wise -- before they chuckle -- to spare a moment for thought: their visitor may very well be a fellow Hawardonian (or should that be, Hawardenite?) from afar.
References / Resources Used
Personal correspondence with:

Darice Carlson, Secretary, Village of Hawarden, Box 7, Hawarden SK, S0H 1Y0, Canada (2001 March and April).
Monte Harvey, D.O., web site editor for the City of Hawarden web site, Iowa, U.S.A. (2001 February).
Paul Munnerley, a teacher at Hurunui College in Hawarden, North Canterbury, South Island, New Zealand (2003 April and May).

Hawarden, a book about the history of the village of Hawarden, Saskatchewan, produced in celebration of its 100-years in 1999. Books may still be available from the Village of Hawarden: contact its secretary (details above: see the Darice Carlson reference).
Mapping Medieval Wales, © 1996 by John Garnons Williams.
Mr. Gladstone and Hawarden, © 1982, published by the Clwyd Record Office, The Old Rectory, Hawarden, Flintshire, CH5 3NR, United Kingdom. ISBN 0 904444 63 5.
NAV 3.0 by Ted Wright. Aeronautical navigation mapping-software. This, together with a separate graphics editor, was used to produce the details on my maps. NAV is freeware, designed as a navigational-aid viewer and flight planner for use with the Microsoft® Flight Simulator. However, I have found much use for this with real-life, geographic data, aeronautical and otherwise (Microsoft® Flight Simulator is not required, but to format personal data for use within the system, experience and skills beyond the normal user-level are necessary).
---
© 2005 Roger Gordon Smith
Victoria, British Columbia, Canada
Revised 2005 October 3

Roger Gordon Smith is a native Welshman and an adopted Canadian;
he taught Science at Hawarden High School in north Wales for 3-years