"Lam Dre 2000"

His Holiness Sakya Trizin's
Precious Teachings in Vancouver

July 1-August 14, 2000
8:20 a.m. Light conversation and private meditations permeate the gompa. The retreatants file in and quietly take their places. 8:30 a.m. The sound of "gya-ling" horns usher His Holiness the Sakya Trizin and his entourage in. Prostrations and prayers, then the teachings begin.
This summer's Lamdre Lobshey was a veritable banquet of commentary, blessings, bodhichitta, tea buns, and birthday cakes. Approximately 225 participants attended the six week teaching held for the first four weeks at UBC Asian Centre and the final two weeks at Totem Park Conference Room. It proved to be a stunning six weeks of fascinating commentary and meditations as well as a deep healing of mind, body, and soul. It all began in the dignified academic environment of the Asian Centre, a sealed, private space surrounded by beautiful greenery and a pond then moved into the warm summer air and sunshine at Totem Park. We, the lay participants, fellow ordained sangha members, and our venerable spiritual guides, came together forming a mandala of peace, bodhichitta, and auspiciousness that permeated the UBC campus and the world outside.
A number of people came specifically for the first week's commentary on the Triple Vision followed by a beautiful and peaceful Bodissatva Vows ceremony in a room filled with flowers and candles and blessings raining down.During the Triple Vision, His Holiness gave the commentary in the morning and his youngest son, His Eminence Gyana Vajra Rinpoche, a fully ordained monk, followed in the afternoon with a more detailed explanation of the teachings as well as some guided meditations. His Eminence proved to be a friendly and diligent teacher, skillfully leading us through the teachings with a perceptive eye and a sense of humour. On July 5, we were delighted to share in his twenty-first birthday celebration with a huge, delicious cake and candles, a long life prayer, and mala bracelets distributed to all the participants. What a surprise it was to come back the next day and have another birthday celebration with yet another cake and long life prayer for His Holiness the Dalai Lama. Two weeks later we were delighted to have another birthday celebration for Lama Kunga Rinpoche of Berkeley.
The next five weeks of Lamdre Lobshey commentary and empowerments followed the same schedule of teachings in the morning from His Holiness and more detail in the afternoon, this time explained by his eldest son, His Eminence Ratna Vajra Rinpoche. With Rinpoche's perceptive and conscientious guidance, gentle laugh, and twinkling eyes, we were able to deepen our understanding of and commitment to the precious Lamdre Lobshey teachings and practice. We become sufficiently single-pointed of mind to be able to file out of the Totem Park gompa during a fire alarm with mental clarity and emotional calm.
We all have so many wonderful memories of our time together. His Holiness is such a kind and humorous master teacher and guru. His main attendant, Lama Jamyang Zodpa nurtured us with his bright, shining eyes and flashing smile, keeping our spirits and energy up, our hearts high. With his deep, melodic voice, the umze (chant master) Jamyang Shedrup had us not just chanting, but singing and Lama Tsering Tashi, who led the majority of the mandala offerings, inspired us to throw rice straight up to the Pure Land. One special memory we all share is of the daily morning tea and mandala offerings, especially the fortifying stream of delicious sweet buns.
Evening events included an Amitayus Long Life Empowerment sponsored by the Tibetan community, who filled the room with their generous spirit and vitality, as well as Chenrezig, and Vajrakalya initiations and two nights of teachings given by His Eminence Ratna Vajra Rinpoche on Madyamika, the Middle Way.
This precious Lamdre Lobshey teaching would never have been bestowed in Vancouver had it not been for the hard work of Jin Yeo, who organized and managed the entire event with a stunning level of patience and competence, Wendy Reed, who took care of a myriad of things, and all the sangha members who helped with tea offerings, meals for the entourage, taping, cleaning up, sales, photography, and many other essential jobs. Thanks also goes to all the lay and sangha members, including the Sakyapa, Nyingmapa, and Gelugpa lamas, for coming and sharing in this precious mandala.
Special gratitude, of course, go to our beloved teacher Her Eminence Jetsun Kushog and Se Kushog of Sakya Tsechen Thubten Ling for having the love, energy, and determination to host such an immense event and to His Holiness Sakya Trizin, His Eminence Ratna Vajra Rinpoche, and His Eminence Gyana Vajra Rinpoche for sharing their immense wisdom with us and bestowing their enormous blessings.
Anyone who has had the precious opportunity to sit with His Holiness would say that it is such a profound and unforgettable experience that it will change one's life. We all hope to warmly welcome His Holiness, His Eminence Ratna Vajra Rinpoche, and His Eminence Gyana Vajra Rinpoche back to Vancouver very soon!
Contributed by Sandra Filippelli
Photos of H.H. Sakya Trizin at Lamdre 2000

Teaching at UBC Asian Centre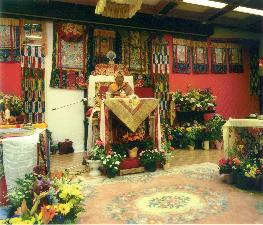 Making Mandala