Gibby's Field
Cedar Cottage, Vancouver, British Columbia, Canada
0. Gibby's Field Historical Plaque Ceremony, Reception, and Walk (2pm, 3pm, 4pm Friday 3 May 2013)
Three events took place on Friday 3 May 2013 to mark the installation of a Vancouver Heritage Foundation "Places That Matter" plaque at Gibby's Field in Kensington–Cedar Cottage
In August 2011, Gibby's Field was announced as one of 125 Vancouver sites to receive a historical plaque as part of the Vancouver Heritage Foundation's "Places That Matter" project. This project evolved from the City of Vancouver's 125th Anniversary celebrations in 2011.

Gibby's Field plaque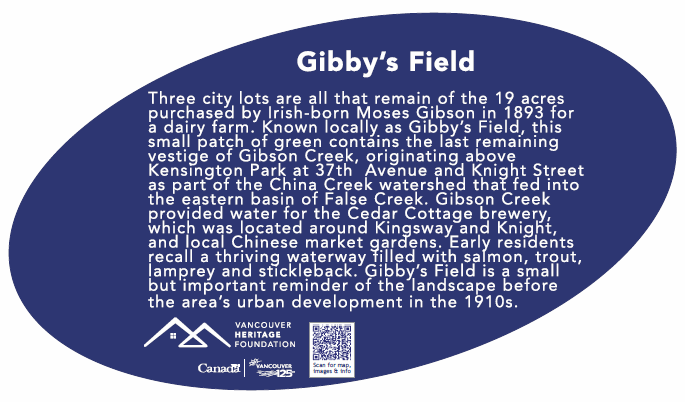 A larger image of the plaque can be found here. marker
2pm Friday 3 May: Plaque ceremony at Gibby's Field, 1458 East 18th Avenue, in the dip between Knight and Dumfries. Those in attendance included seniors Olive Cairns and Florence Anderson who are both in their 90s and remember Gibson Creek, which ran through Gibby's Field as late as 1944, and descendants of one-time local landowner Moses Gibson, who gave his name to Gibby's Field. (Those in attendance also included Vancouver–Kingsway MP Don Davies and City of Vancouver Councillor Andrea Reimer.)
3pm Friday 3 May: Reception including Olive Cairns, Florence Anderson , and the Gibson family at Tyee Elementary School, 3525 Dumfries Street, a short walk from Gibby's Field. Displays about Gibby's Field by the Gibby's Field Subcommittee and Mrs. Lublow's grade 4/5/6 class at Tyee. Displays also from the Vancouver Heritage Foundation and False Creek Watershed Society. All welcome. (Those in attendance also included Don Davies, Andrea Reimer, and three provincial candidates for Vancouver–Mount Pleasant: Jeremy Gustafson, Jenny Kwan, and Peter Marcus.)
Tyee is holding its annual plant sale from 3pm to 8pm at the school this day, so be sure to visit the plant sale as well as the reception.
4pm Friday 3 May: Jane's Walk walking tour (60–75 minutes) starting and ending at Tyee Elementary, stopping "on" a bridge over Gibson Creek at East 20th Avenue, near the location of Moses Gibson's farmhouse. The tour also stopped along the path of Davey Creek, another local creek that used to meet Gibson Creek at Gibby's Field. See also the walk description at the Jane's Walk Vancouver website.
Feel free to download and distribute copies of a poster and flyers of the 3 May events.