The Burney Ensemble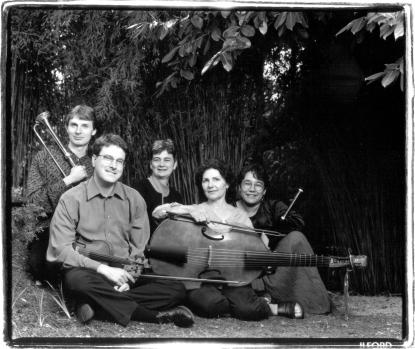 The Burney Ensemble, founded in 1998, has quickly established a reputation for exciting and entertaining concerts. Through its innovative programming, the ensemble, performing on period instruments, pairs music with literature and brings to life the music and culture of the seventeenth and eighteenth centuries.
The ensemble has appeared together with Monica Huggett and Suzie LeBlanc for Early Music Vancouver, and was invited to perform at the world's largest chamber music festival, the Ottawa Chamber Music Festival, during the summer of 2000.
Taking its inspiration from the great eighteenth century musician, historian and scholar, Charles Burney (1726–1814), The Burney Ensemble's concerts feature a mixture of music and word. Gossip, scandal, anecdotes and commentary are drawn from the writings of Charles Burney and his contemporaries and brought into every performance.
The Burney Ensemble can frequently be heard on CBC Radio Two, and has been the subject of numerous radio, television, newspaper and journal articles.
Photo credits: Alex Waterhouse-Hayward in the Arthur Erickson Garden, courtesy of The Arthur Erickson House and Garden Foundation, Vancouver.
Upcoming concerts
Ticket Information
Past programmes
Ensemble history
The Performers
Reviews
Newsletters

Join our mailing list
Contact information
Links
Home


You are visitor no. 18522 since April 3, 2000