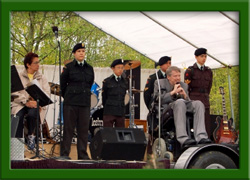 Mayor Sam Sullivan opened the Event and was escorted by an honour guard of Cadets from B.C. Regiment. He commended the restoration work being done at the Park calling it, "….a symbol of hope for the future."

That sentiment was echoed by Parks Board Chairman, Ian Robertson, who quoted Martin Luther as saying, "If told I had only one day left to live, I would plant a tree." Ian grew up not far from the Park and rode his bike through the old landfill.