Our new CD, "bach circle" is here!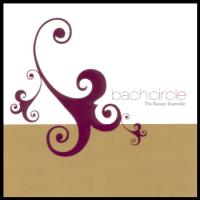 Now in stores across Canada.
You asked for it – you've got it! After three years of questions and pestering, The Burney Ensemble finally buckled down and made its first CD!
We gathered for two long days in July, in the very same space we use for our concerts, to record a project of music close to our hearts – the music of Johann Sebastian Bach and his students. Those of you who have been with us for a while will certainly recognise some of the works on the disc: solo sonatas, duos and trio sonatas by Carl Philipp Emanuel Bach, Johann Philipp Kirnberger, Johann Gottlieb Goldberg and good old J. S. Bach himself.
If you don't want to go to the store, or if you live outside of Canada, you can order the CD directly from us.
You can either send a cheque or money order in Canadian funds to:
The Burney Ensemble
PO Box 3190 MPO
Vancouver, BC
V6B 3X6
Canada
or order by phone at:
1-604-315-8735 (VISA payments only)
The price is CDN $ 20 each (shipping/handling included for Canadian orders)
Shipping and Handling: Please add $2 per CD for orders to the U.S.A.. (International rates will be calculated on an individual basis; please email us with your order and we will get back to you with the shipping costs.)
bach circle
Johann Sebastian Bach (1685-1750):
Trio Sonata in G major, BWV 1038
Violin Sonata in G major, BWV 1021
Johann Philipp Kirnberger (1721-1783):
Trio Sonata in g minor (1763)
Flute Sonata in G major (1769)
Carl Philipp Emanuel Bach (1714-1788):
Trio Sonata in C major (1731)
Duetto for flute and violin (1770)
Johann Gottlieb Goldberg (1727-1756):
Trio Sonata in C major
The Burney Ensemble:
Sonja Boon - baroque flute
Paul Luchkow - baroque violin
Nan Mackie - viola da gamba
Valerie Weeks - harpsichord
Producer:
Liz Hamel
Executive Producer:
Búi Petersen
Recording Engineer:
Don Harder
Recorded July 17 & 18, 2001 in St. Mark's-Trinity Church, Vancouver.