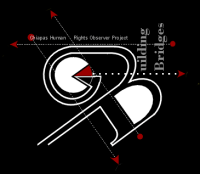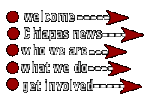 WHAT WE DO
The Building Bridges in Chiapas Human Rights Observer Project
Building Bridges is committed to publicizing what is happening in Chiapas. Observers take part in publicity campaigns on their return to Canada. Participants have spoken on radio, written articles for local newspapers and taken part in discussion groups and workshops.
Building Bridges is dedicated to raising funds to send to communities in Chiapas. We are currently selling a year 2000 calendar/datebook designed by artist Dafne Blanco. The proceeds will be forwarded to Chiapas. We are also working on getting needed medical supplies to send to Mexico.
To recruit, screen and support volunteer observers;
To inform and educate the general population about the situation in Chiapas, and
To raise funds to support the work of the Fray Bartolome Human Rights Centre and Enlace Civil and the communities of Chiapas.
If you are interested in any aspect of this project, or for more information, please contact:
Maryann Abbs / Eric Doherty at (604) 877-1223
or e-mail us at:
building@vcn.bc.ca