Britannia Community Centre's Outdoor Adventures is a group within the Britannia Community Services Centre - Vancouver Parks and Recreation. We have been running for over 16 years taking people to many beautiful places around the southwestern BC (Pemberton to the north, Manning Park to the east, Gulf Islands to the west, and the U.S. border to the south).
What we do
Our main activities are canoeing (day & overnight trips), hiking, snowshoeing, Nordic skiing, and backpacking. We provide two guides, transportation in a 15 passenger van, and necessary equipment for the event. Our outings range from easy to challenging but the majority are in the moderate range. We are very safety conscious and place the well-being of the group before the end goal. We travel as a group - the outings are as much a social event as they are an appreciation of the area we are traveling in.
Consider joining the Britannia Outdoor Adventures Facebook group for outing and photo gallery updates as soon as they happen. Its also a good way to ask questions.
Britannia Community Services Centre
1661 Napier Street
Vancouver, BC V5L 2M6
Tel: (604) 718-5800
Fax: (604) 718-5858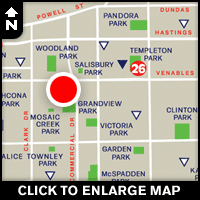 Website:  www.britanniacentre.org
Check out the Winter 2011 Events page!