Feng-Shan HO and the Rescue Of Austrian Jews.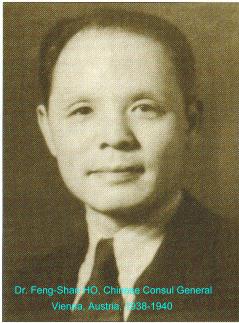 Dr. Feng-Shan Ho was one of the first diplomats to save Jews by issuing them visas to escape the Holocaust. He was responsible for saving thousands [estimated 18,000] of Jews in Nazi-occupied Austria in 1938 and 1939.
"The gifts Heaven bestows are not by chance
The convictions of heroes not lightly formed.
Today I summoned all spirit and strength
Urging my steed forward ten thousand miles."
Dr. Feng-Shan Ho (New Year's Day, 1947 - poem written to his wife).
Assignment: Vienna
Following the Anschluss (Austrian voted in favour of annexation with Germany) in 1938, all foreign embassies and legations in Austria were closed. In May 1938, Ho was appointed the Chinese Consul General in Vienna. The legation staff was reduced to Consul General Ho and one subordinate, a Vice Consul.
With the German takeover, Austrian anti-Semitism erupted in full force.
Dr.Ho was clearly a man of conscience. The Jews of Austria were increasingly in danger, and they neede help. Ho knew that someone had to take responsibility.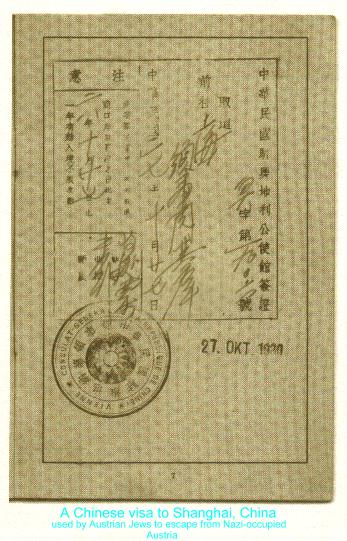 Visas to China
Less than a month after the annexation, the first Austrian Jews were deported to Dachau and Buchenwald concentration camps. They were told that if they emigrated immediately, they would be released.
Many Jews wanted to go to the United States, but even though the U.S. had not filled its Austrian quota, it imposed stringent emigration restrictions. Those who wished to go Palestine found that Britain, under Arab pressure, had severely reduced the quota for Jewish emigrants.
The plight of Austrian Jews was further exacerbated by the July 13 resolution of the Evian Conference, which made it evident that none of the 32 participating states ws willing to open its doors to Jewish refugees.
Vienna became the centre for emigration of Austrian Jews. All foreign consulates in the city were besieged by desperate Jews day after day, but most did not offer help. The British consulate posted a sign saying no visas would be issued; the French would not accept any visa applications. The Swiss demanded that passports be stamped with the red "J" in order to bar them from crossing the border.
The 'means' Consul General Ho used to help Jewish refugees was to issue them visas to Shanghai, China. He practiced a " liberal" visa policy, authorising the issuing of visas to any and all who asked. Having been turned down by many consulates, Jews soon discovered that they could get visas at the Chinese Consulate.
Soon, lines of desperate refugees formed at the Chinese Consulate seeking the lifesaving visas. Word spread, and in September 1938, when another Jew, Norbert Ligstein went to the Chinese Consulate for visas, there was such a 'throng' that he despaired of ever getting in and resorted to jumping the line.
For the next 2 years, the compassionate Chinese Consul General in Vienna issued visas to any and all Jews who requested them. After exhausting their supply of official forms, they even used ordinary paper stamped with the consular seal.
It is due to Dr. Ho's act of compassion that my parents, Oskar and Berta and eighteen of my father's relatives were able to leave Vienna to start a new life in Shanghai, China. Had they not received this visa, they would have perished in the Nazi concentration camp as did many friends and relatives who remained behind.
Harry Fiedler, son of Ho survivors.
A "Liberal" Visa Policy.
Throughout this period, the Nationalist Chinese government continued diplomatic relations with Nazi Germany. Chiang Kai-Shek, China's ruler, was an admirer of the Nazis and used German military advisers and weapons. He also sent his younger son to be schooled by the Nazis. This son became a second lieutenant in the German 98th Jaeger Regiment and took part in the invasion of Austria in 1938.
Consul General Ho continued to maintain a 'liberal' policy. This so angered the Chinese [KMT] ambassador that he sent a subordinate to Vienna on the pretext of investigating rumours that the Consulate was 'selling' visas.
The investigator arrived unannounced from Berlin. After thoroughly examining all records and finding no evidence of wrong doing, he asked Ho why there were rumours about the 'selling' of visas. Ho replied that the rumours were baseless. Under a 'liberal' policy, he said, "any person who wants a visa can get one, so why would anyone want to pay a high price to get one?"
Retirement.
In 1973, after 4 decades in the diplomatic service, Feng-Shan Ho retired to San Francisco.
Once he had retired, the Chinese Nationalists in Taiwan launched a political vendetta to discredit Ho publicly with false allegations of a petty misappropriation of funds at his last posting. Ho presented evidence of his innocence, but it was futile. The real reasons behind this political vendetta were never revealed. Ho was denied a pension for his 40 years of service to China, and more than 2 decades later, his name has not been cleared.
He wrote his memoirs, " Forty Years of My Diplomatic Life," published in 1990. He was a well-known and respected member of the Chinese community.
On September 28, 1997, Feng-Shan Ho, attended by his wife & daughtter. He was 96 years old. His spirit remained undiminished to the end. The Chinese Consulate in San Francisco, represented the Communist government, sent a wreath to his memorial service. The Nationalist, whom he had served honourably for a lifetime, made no mention of his passing.
Why was Feng-Shan Ho willing to help the Jews of Austria when most others would not? His reason was simple: " I thought it only natural to feel compassion and to want to help. From the standpoint of humanity, that is the way it should be."
Source: Excerpted from "Diplomat Rescuers and the Story of Feng shan Ho" produced by the Vancouver Holocaust Education Centre in partnership with Visas For Life: The Righteous Diplomats and Manli Ho.
Photo Credits: Visas for Life, the Manli Ho Collection, the Vancouver Holocaust Centre Archival collection, an susan Bluman, personal collection.